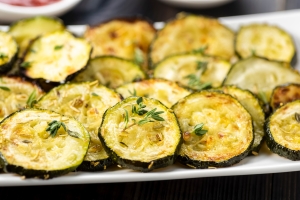 These oven baked zucchini chips are a healthy alternative to corn chips for so-yang and tae-yang. They take just 10 minutes to prepare and you'll have time to finish making dinner while the chips are cooking slowly in the oven.
2 medium zucchini
1 tablespoon olive or avocado oil
½ teaspoon salt
Directions:
Preheat oven to 200 degrees F (93 degrees C)
Thinly slice your zucchini. A mandoline slicer makes this process easy.
Add oil and toss to coat the zucchini slices thoroughly. Add salt and toss again.
Place cookie baking racks on top of two cookie sheets, then top these with parchment paper. Arrange the zucchini slices in a single layer. Make sure they don't overlap.
Bake for about 2 to 2½ hours, rotating the pans halfway through. The zucchini chips are done when they are golden and just starting to get crispy. Allow them to cool in the oven with the heat off and the door propped slightly open (they will crisp up more as they cool).
Just before cooling you can add some toasted sesame seeds or thyme for some interesting variations. But simply salt with some homemade dipping sauce is great too.