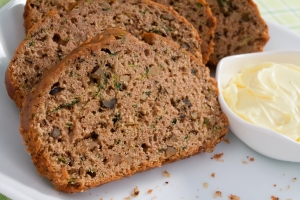 This is a simple warming recipe for the end of the season zucchini, when you feel like you've just had enough but there's more to come. Maybe what you want is  something that doesn't seem like you're even eating a vegetable. In this recipe you can substitute chocolate chips for the toasted walnuts and make it a dessert. Enjoy! You know you're going to be missing these versatile summer squashes very soon.
¾ cup milk (can be use substitutes for cow's milk)
2 large eggs
¾ cup sugar
1/3 cup of oil
1 teaspoon vanilla extract
2 cups shredded zucchini (about 2 small zucchini)
2 cups white whole-wheat flour*
2 teaspoons baking powder
1 teaspoon cinnamon
½ teaspoon salt
½ cup of toasted walnuts
Click edit button to change this text.
Directions:
Preheat oven to 350 degrees. F. Coat a 9 x 5-inch loaf pan with oil and wipe up excess. Or you can use a non-stick loaf pan.
Whisk milk, eggs, sugar, oil and vanilla in a medium bowl. Stir in zucchini. Combine flour, baking powder, cinnamon and salt in a large bowl. Add the wet ingredients and toasted walnuts to the dry ingredients; stir until just combined. Transfer the batter to the prepared pan.
Bake until golden brown and a wooden skewer inserted in the center comes out clean, 50 minutes to 1 hour. Cool in the pan for 10 minutes, then turn out onto a wire rack. Let cool for at least 1 hour before slicing.
*White whole-wheat flour, made from a special variety of white wheat, is light in color and flavor but has the same nutritional properties as regular whole-wheat flour. It is available at many natural-foods stores and online at bobsredmill.com. Store it in the freezer.